Unmanaged Code, Layer Breakdown, CPU Tracking and more ..
We are happy to announce the final release of SpeedTrace Pro's new Version 4.0.
Request your trial license here: https://profiler-and-tracer.com/support-download/download/
Amplified tracing scope now includes unmanaged code!
One of SpeedTrace Pro's Version 4.0 key features this year is a new tracing method especially designed to embrace non-dotNET code. This newly added piece of cutting-edge functionality enables you to trace also non-dotNET platforms such as VBA, JavaScript, unmanaged C++, etc. all in one go. The advantage of this is precious, since a lot of .Net applications consist of mixed code nowadays.
Layer Breakdown – the ideal management reporting tool
The new dashboard 'Layer Breakdown' now provides you with a quick bird's eye overview of the application's overall time consumption layer by layer, so you can see at one glance where the most time was consumed. It is the ideal management reporting and controlling tool to help testers, consultants, architects and managers to scan the critical areas and to check what still needs to be done …. Besides, the layers can be customized, so that you are able to view your trace output from all kinds of different perspectives.
Powerful new features and extended functionality
[arrow_list]
[list_item]CPU time tracking (tracing, sampling) offers quick CPU usage checks enabling you to zoom from summary views down to specific time frames and even functions within the same scenario[/list_item]
[list_item]Splitting and merging multiple TraceFiles allows you to customize your tracing activity (ideal when working in team and task force constellations on large apps)[/list_item]
[/arrow_list]
Enhancements on all levels
[arrow_list]
[list_item]Easier navigation / IIS tracing with a whole set of new browsers (project, application, website) all adding up to a fabulously comfortable UI feeling[/list_item]
[list_item]Even faster tracing due to structural improvements and enhancements to code and implementation[/list_item]
[/arrow_list]
Outlook for next CTP
We are already in our starting blocks to tackle the next version's challenges to add further leading-edge functionality and possibly widen our portfolio.
Welcome to Download
Send us your feedback. Comments and suggestions appreciated.
SpeedTrace Pro New Version 4.0 – ready for download.
[button url="https://profiler-and-tracer.com/support-download/download/" target="_self" size="small" style="dark" ]Try SpeedTrace Pro →[/button] 10-day free trial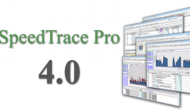 SpeedTrace Pro 2012 Spring Events Prev post